April 18, 2019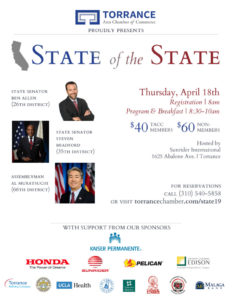 The Torrance Area Chamber of Commerce presents the State of the State on Thursday, April 18 at 8 a.m. at Sunrider International.
The event features State Senators Ben Allen (26th District) and Steven Bradford (35th District) with Assemblyman Al Muratsuchi (66th District).
Tickets are $40 for TACC Members and $60 for non-members.
For additional information and ticket purchase, visit the website at https://www.torrancechamber.com/event/state19/.
Sunrider International is located at 1625 Abalone Avenue, Torrance, CA 90501.