August 14, 2018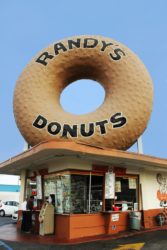 World Famous Randy's Donuts will be creating more than 15 jobs in El Segundo with their latest restaurant opening at Apollo Landing in early September. They are currently accepting applications for a variety of roles including supervisors, counter sales, bakers, fry cooks, and decorators. Randy's Donuts is thrilled to be coming to the community of El Segundo and helping to grow the local economy.
Unlike other donut or dessert stores that make a few hundred a day of only a handful of varieties, Randy's Donuts team of bakers produces over 40 different varieties daily that appeal to everyone from kids, parents, business travelers, and those with the most discriminating tastes.
Randy's Donuts has been making every donut by hand for over 50 years. They pride themselves on using only the finest baking ingredients available in the world. The best ingredients coupled with expert bakers and Randy's Donuts secret mixes, produces a donut that is fluffier, airier, larger, and stays fresh longer. "We never skimp on icing, glaze, sprinkles, or other decorations" says Mark Kelegian, CEO and owner of Randy's Donuts. "We go over the top to put as much chocolate, maple, cream filling, or other toppings as the donuts can possibly hold".