October 1, 2020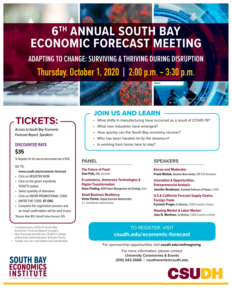 Cal State Dominguez Hills will host the South Bay Economic Forecast on Thursday, October 1 from 2 to 3:30 p.m. online.
Take part in this annual event from the comfort of your home and take the opportunity to network with the Forecast speakers and attendees in virtual sessions. The Emcee and Moderatoris Frank Mottek, Business News Anchor, KNX1070 Radio.
Topics include:
-What shifts in manufacturing have occurred as a result of COVID-19?
-What new industries have emerged?
-How quickly can the South Bay economy recover?
-Who has been hardest hit by the downturn?
-Is working from home here to stay?
Economists Panel
Innovation & Opportunities, Entrepreneurial Analysis – Dr. Jennifer Brodmann, Professor, CSUDH
U.S & California Forecast Supply Chains, Foreign Trade, – Dr. Fynnwin Prager, Co-Director, Economics Institute
Housing Market & Labor Market – Dr. Jose Martinez, Co-Director, Economics Institute
Adapting to Change Panel
Everytable – Sam Polk, CEO – The Future of Food
Route – Dana Finding, B2B Product Management and Strategy – E-commerce, immersive technologies, and digital transformation
U.S. Small Business Administration – Victor Parker, Deputy Associate Administrator – Small Business Resiliency
A virtual reception will follow the forecast at 3:30 p.m.
The first 150 registrants will receive a complimentary Everytable meal delivered to them on the day of the Forecast (zip code areas apply. Additional meals are available for purchase).
Tickets are $40/$50/$400
For additional information and ticket purchase, visit the website at https://www.csudh.edu/uce/economic-forecast/.