November 8, 2020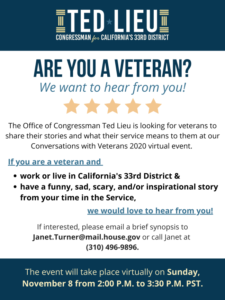 The virtual Conversations with Veterans will take place on Sunday, November 8 from 2 to 3:30 p.m.
Congressman Ted Lieu is looking for Veterans to share their stories and what it means to them at this annual event.
If you are a Veteran and live in California's 33rd District and have a funny, sad, scary and/or inspirational story from your time in the service, they would love to hear from you!
If interested, please email a brief synopsis to janet.turner@mail.house.gov or call Janet at 310-496-9896 and Congressman Lieu's office will be in touch.