June 12, 2018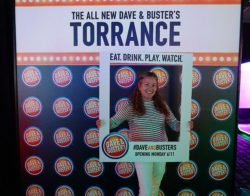 Last week I attended a media preview at the new Dave & Buster's in Del Amo Fashion Center.
Full disclosure: I've never been to a Dave & Buster's and was startled by the raucous reception we received upon entering. A dozen delighted employees greeted us with cheers, horns, and smiling faces.
As we were checking in, a member of the marketing team offered to take us on a tour of the 35,000 square foot facility – you read that right – 35, 000 square feet of wall to wall fun. We were given a couple of drink coupons and a card loaded with $20 for game play.
Dave & Buster's offers New American food, an array of fun, innovative beverages, and the biggest and best arcade games, including several proprietary games, under one roof…. one HUGE roof.