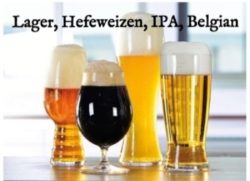 Over the last few years, the South Bay has become a major player in the Craft Beer Scene with numerous breweries, brew pubs, beer specialty shops and beer tours.
Breweries have become a favorite destination for not only beer aficionados, but those looking for an unpretentious neighborhood joint where they can kick back and enjoy a cold one.
New breweries are opening for business at an incredible pace, so be sure to check for updates!
The following is a list of South Bay breweries, brewpubs, tap and tasting rooms.

Absolution Brewing Company
Brewery & Taproom
2878 Columbia Street
Torrance, CA 90503
310 490-4860
http://www.absolutionbrewingcompany.com/
The Brewery @ Abigail
Brewpub
1301 Manhattan Avenue
Hermosa Beach, CA 90254
310.798.8227
https://abigailerestaurant.com/
Burnin' Daylight Brewing Company
Brewpub
24516 Narbonne Avenue, Suite 100
Lomita, CA 90717
(424) 263-2117
https://www.burnindaylightbrewing.com/
Buzzrock Brewing Company
The Brews Hall (Brewery & Food Hall)
21770 Del Amo Circle East
Torrance, CA 90503
310-294-9838
https://www.thebrewshall.com/brand/buzzrock-brewing-co/
Buzzrock Brewing Company
The Brews Hall (Brewery & Food Hall)
73 Pier Avenue
Hermosa Beach, CA 90254
424-348-0800
https://hermosabeach.thebrewshall.com/
Common Space
Brewery & Taproom
3411 West El Segundo Boulevard
Hawthorne, CA 90250
(424) 456-4355
https://www.commonspace.la/
Cosmic Brewery
Brewery & Tasting Room
20316 Gramercy Avenue
Torrance, CA 90501
(424)259-2337
http://cosmicbrewery.com
Culture Brewing Company
Tasting Room
327 Manhattan Beach Boulevard
Manhattan Beach, CA 90266
424-390-4110
https://www.culturebrewingco.com/manhattan-beach
The Dudes Brewing Company
Brewery & Tasting Room
1840 West 208th Street
Torrance, CA 90501
424-271-2915
http://www.thedudesbrew.com/
El Segundo Brewing Company
Brewery & Taproom
140 Main Street
El Segundo, CA 90245
(310) 529-3882
http://elsegundobrewing.com/
George Lopez Brewing Company
The Brews Hall (Brewery & Food Hall)
21770 Del Amo Circle East
Torrance, CA 90503
310-294-9838
https://www.thebrewshall.com/brand/george-lopez-brewing-co/
George Lopez Brewing Company
The Brews Hall (Brewery & Food Hall)
73 Pier Avenue
Hermosa Beach, CA 90254
424-348-0800
https://hermosabeach.thebrewshall.com/drink-menu/#brews-menu
Hermosa Brewing Company
Brewpub & Taproom
1342 Hermosa Avenue
Hermosa Beach, California 90254
424.398.0014
https://hermosabrewingco.com/
Honest Abe Cider & Mead
Cidery & Tasting Room
17800 South Main Street
Gardena, CA 90248
(213) 534-8131
http://www.honestabecider.com/
HopSaint Brewing Company
Brewpub
5160 West 190 Street
Torrance, CA 90503
310-214-4677
https://www.hopsaint.com/
King Harbor Brewing Company
Brewery & Tasting Room
2907 182nd Street
Redondo Beach, CA 90278
(310) 542-8657
http://kingharborbrewing.com/
King Harbor Brewing Company
Waterfront Tasting Room
132 International Boardwalk
Redondo Beach, CA 90277
(310) 374-1400
http://www.kingharborbrewing.com/
King Harbor Brewing Company
Tasting Room
1719 South Catalina Avenue
Redondo Beach, CA 90277
Phone number (424) 452-6063
http://www.kingharborbrewing.com/
L.A. Aleworks
Brewery & Tasting Room
12918 Cerise Avenue
Hawthorne, CA 90250
(424) 456-4191
http://www.laaleworks.com/
Monkish Brewing Company
Brewery & Tasting Room
20311 South Western Avenue
Torrance, CA 90501
310-295-2157
http://www.monkishbrewing.com/
Phantom Carriage Brewery
Brewpub
18525 South Main Street
Gardena, CA 90248
(310) 538-5834
http://www.phantomcarriage.com
Project Barley
Nano-Brewery
2308 Pacific Coast Hwy
Lomita, CA 90717
(424) 250-0685
http://projectbarley.com/
Red Car Brewery
Brewpub
1266 Sartori Avenue
Torrance, CA 90501
(310) 782-0222
http://redcarbrewery.com/
Smoky Hollow Tasting & Taproom @ R6 Distillery
Distillery, Brewery & Tasting Room
909 El Segundo Boulevard
El Segundo, CA 90245
424.277.1134
https://www.r6distillery.com/
Schlob Premium Ales
Brewery & Tasting Room
2964 Columbia Street
Torrance, CA 90503
http://www.drinkscholb.com
(424) 350-7303
Smog City Brewing Company
Brewing & Taproom
1901 Del Amo Boulevard, Suite B
Torrance, CA 90501
310-320-7664
http://www.smogcitybrewing.com/
Smog City West
Taproom
22755 Hawthorne Boulevard
Torrance, CA 90505
(310) 791-1015
https://smogcitybrewing.com/
Strand Brewing Company
Brewery & Taproom
23520 Telo Avenue #1
Torrance, CA 90505
310-517-0900
http://www.strandbrewing.com/
Surfridge Brewing Company
Brewery & Taproom
137 Nevada Street
El Segundo, CA 90505
424.277.1102
https://www.surfridgebrewery.com/
Upshift Brewing Company
339 Indiana Street
El Segundo, CA 90505
310-648-8246
https://upshiftbrewing.com/
Yorkshire Square Brewing Company
Brewpub
1109 Van Ness Avenue
Torrance, CA 90501
(424) 376-5115
http://yorkshiresquarebrewery.com/