June 5, 2020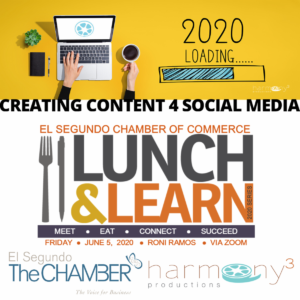 The El Segundo Chamber of Commerce presents the monthly Lunch & Learn on Friday, June 5 at 11:30 via Zoom.
Representatives from Harmony 3 Productions will discuss creating content for social media.
Grab lunch at your favorite Gundo To Go restaurant prior to joining the Zoom meeting. For a list of restaurants, visit http://www.gundotogo.com for a list of restaurants!
To register for this free webinar, email the El Segundo Chamber at director@elsegundochamber.org with the subject line: Register for June 5 Webinar.
Link to the Zoom webinar will be emailed directly to you.
Questions? Contact director@elsegundochamber.org.