First Fridays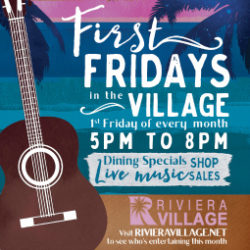 Riviera Village presents First Fridays from 5 to 8 p.m. every first Friday of the month.
This free, monthly event is the place to be every first Friday! Head to the Village and enjoy live music, food samplings, gallery viewing, promotional offers and more while you dine and shop. Riviera Village merchants and art galleries stay open until 8 p.m. The energy will be fueled by live music at the north east corner of Avenue I and Catalina from 6 to 8 p.m.
The Village has plenty of metered parking on every street, along with a large metered parking lot in the triangle bordered by South Elena Avenue, Via El Prado and Avenida del Norte, and additional parking off South Catalina Avenue and Vista Del Mar. The parking fees are $1.50 per hour from 9am to 9pm and many meters conveniently accept credit cards for payment.
For additional information, visit the website at http://rivieravillage.net/.