March 11, 2018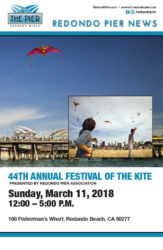 Should you notice the sky above the coastline bursting with colorful, odd shaped objects exhibiting remarkable maneuvering ability, do not be alarmed. This is no alien invasion. No, it's only the most ancient example of man yearning to fly. The annual Festival of the Kite takes place on Sunday, March 11, from noon to 5 p.m. at the Redondo Beach Pier.
This is Southern California's longest running kite festival – the event is free and open to the public and features live music and other entertainment. The festivities get underway with the annual Throw Down Yo-Yo Competition to be held on the Pier. All ages are welcome! Then discover just how much you really can eat in five minutes during the annual Craig's Hot Dog On A Stick Eating Contest at 3 p.m. There's a $200 Prize!
Prizes will be presented in several categories: Highest Flying Kite, Best Handmade Kite, Youngest Kite Flyer and Youngest Kite Flyer at Heart.
You'll also have an opportunity to launch a 25 foot wide kite to kick off the festivities. An assortment of vendors will be on hand for all your kite flying needs. At the conclusion of the festival, all kite flyers will take part in a mass kite ascension.
This is one sight that never gets old.
For additional information, visit the website at http://www.redondopier.com/events/ or call 310-372-0308.
The Redondo Pier is located at 100 Fisherman's Wharf, Redondo Beach, CA 90277