South Bay By Jackie is your source for information about fun and interesting Manhattan Beach events.

July 2 – September 3, 2017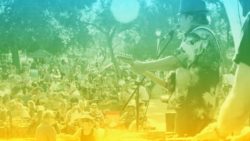 The City of Manhattan Beach presents the annual Concerts in the Park series kicking off Sunday, July 2 and running through September 3.
The series is a summer-long event held at Polliwog Park and takes place every Sunday evening from 5 to 7 p.m. Concerts in the Park has featured such artists as the Doo-Wah Riders, Nathan Shrake, Elvis and Beatles tribute Bands, as well as a host of other talented musicians.