South Bay By Jackie is your source for the latest Lomita events.

June 24, 2017
The City of Lomita presents the annual Founder's Day Celebration on Saturday, June 24 from 4 to 9 p.m. at Lomita Park.
The public is invited to this FREE event which will include music, carnival games, food trucks, performances by local groups and more. The evening will culminate with a fireworks show at 9 p.m.
For additional information, call 310-326-0140 or visit http://www.lomita.com/cityhall.
Lomita Park is located at 24428 Eshelman Avenue in Lomita.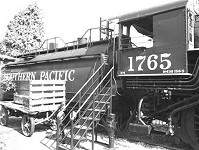 The Lomita Railroad Museum is dedicated to educating and informing the public about railroads — particularly of the steam era — the present, past, and future of transportation, the history of the U.S. Westward Expansion, the settlement of California, and the people who made this all happen.
The museum, located in Irene Lewis Park, is owned and operated by the City of Lomita and is overseen by the Lomita Parks & Recreation Department.