November 1, 2020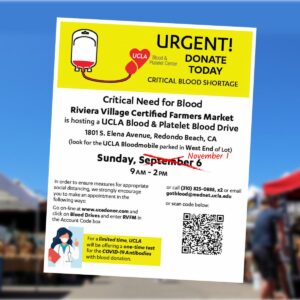 The Riviera Village Farmers' Market will host a Blood & Platelet Blood Drive on Sunday, November 1 from 9 a.m. to 2 p.m.
There is a critical blood shortage and everyone is encouraged to make an appointment ahead of time to ensure measures for social distancing.
For all the details, visit the website at http://www.ucedonor.com, click on the Blood Drive tab and enter in the Account Code box RVFM. You can also call 310.825.0888 ext. 2.
For additional information, visit the Facebook event page at https://www.facebook.com/events/289415505664116/.