September 24, 2016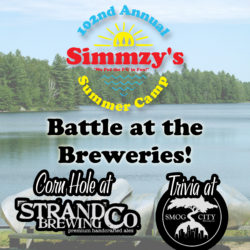 Simmzy's Summer Camp is back with the Battle at the Breweries on Saturday, September 24.
Grab a teammate and get ready for the Battle at the Breweries featuring a Corn Hole Tournament at Strand Brewing Company and Trivia Tournament at Smog City Brewing with awesome Simmzy's prizes going to the winners!
Contestants should meet at 11:30 a.m. at Craft Shack Fueled by Simmzy's located in the Center Court of The Point at 850 South Sepulveda Boulevard in El Segundo for food and beers, and at noon everyone will board the Big Yellow School Bus to the breweries!
Tickets are $25 and includes transportation, two beers at each brewery and amazing snacks prepared by Chef Rubino.
Make sure to reserve your spot on the bus by Wednesday, September 21.
For additional information and registration, visit the website at https://docs.google.com/forms/d/e/1FAIpQLSelf7nvyWltAw9S9MTGTIG26iOT2FveqMufZctofvxsrkwoZw/viewform.