August 14, 2018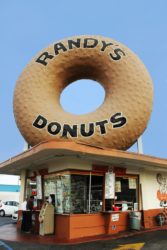 World Famous Randy's Donuts will be creating more than 15 jobs in El Segundo with their latest restaurant opening at Apollo Landing in early September. They are currently accepting applications for a variety of roles including supervisors, counter sales, bakers, fry cooks, and decorators. Randy's Donuts is thrilled to be coming to the community of El Segundo and helping to grow the local economy.
Unlike other donut or dessert stores that make a few hundred a day of only a handful of varieties, Randy's Donuts team of bakers produces over 40 different varieties daily that appeal to everyone from kids, parents, business travelers, and those with the most discriminating tastes.
Randy's Donuts has been making every donut by hand for over 50 years. They pride themselves on using only the finest baking ingredients available in the world. The best ingredients coupled with expert bakers and Randy's Donuts secret mixes, produces a donut that is fluffier, airier, larger, and stays fresh longer. "We never skimp on icing, glaze, sprinkles, or other decorations" says Mark Kelegian, CEO and owner of Randy's Donuts. "We go over the top to put as much chocolate, maple, cream filling, or other toppings as the donuts can possibly hold".
Randy's Donuts is also a great value for families and businesses with glazed donuts, twists, chocolate raised, cinnamon rolls, apple fritters, or any of the 35 other donuts at prices below the competition. "Right now, we're on the search for motivated, dedicated and enthusiastic individuals who will bring an exceptional experience to all of our guests," said David Ducharme, Director of Operations "We look forward to building a team of friends that can help not only serve the most delicious and authentic donuts, but also create a genuine relationship with the local El Segundo community."
"We're proud of the fact that when we open a new Randy's Donuts, we're not just offering genuine donuts, snacks and beverages, but we're also creating a number of jobs that can help impact the local economy," said Mark Kelegian, "We feel confident that we will find some motivated and passionate candidates to help Randy's Donuts make its mark on El Segundo."
Randy's Donuts is growing across the greater Los Angeles area with new locations opening in El Segundo, Hollywood, Downey and Torrance as well as several other locations in Orange County. Randy's Donuts is also expanding across the USA and globally in the next 5 years. The goal is to scale the success of Randy's Donuts flagship location in Inglewood which has amassed thousands of raving reviews across Google, Facebook and Yelp and is always included as a top tourist stop for anyone living in or visiting Los Angeles.
Randy's Donuts El Segundo will be opening in early September and will be located at 2182 Rosecrans Avenue, El Segundo, CA 90245. The location will be open from 6am to 7pm daily. For additional information, visit the website at http://www.randysdonuts.com.