June 2, 2020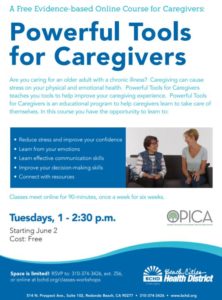 Beach Cities Health District will host a Powerful Tools for Caregivers Workshop starting Tuesday, June 2 from 1 to 2:30 p.m.
An evidence-based, six-week program for family caregivers who are currently involved with providing care to children or adults with chronic conditions held in partnership with Beach Cities Health District and OPICA (Optimistic People In a Caring Atmosphere).
In six weekly classes, caregivers develop a wealth of self-care tools to:
Reduce personal stress
Communicate needs to family members and healthcare or service providers
Communicate more effectively in challenging situations
Deal with difficult emotions
Make tough caregiving decisions
Next Session: Tuesdays, starting June 2 (new postponed date) at 1 p.m.
For additional information and registration, call 310-374-3426, ext. 256 or visit the website at http://www.bchd.org/classes-workshops.