Every Friday & Saturday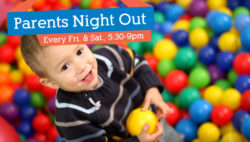 AdventurePlex offers a Parents' Night Out every Friday and Saturday from 5:30 to 9 p.m.
Here's your opportunity to show the kids a great time and give yourself a guilt-free adult night out. Your children will have as much fun as you learning a new activity from an AdventurePlex class instructor, creating arts and crafts, playing games, challenging themselves in sports and, of course, exploring all five levels of the famed play structure. A healthy dinner is provided as well!
The cost is $25 for the first child and $15 for siblings. Children must be at least 3 years old.
For additional information, visit the website at http://www.adventureplex.org/.
AdventurePlex is located at 1701 Marine Avenue, Manhattan Beach, CA 90266.