October 27, 2016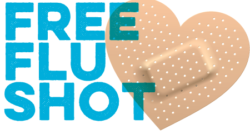 The Los Angeles County Department of Public Health will be hosting a FREE Influenza Outreach Clinic for residents and community members to get their flu vaccinations on Thursday, October 27 from 10 a.m. to noon at the Ken Miller Recreation Center.
For additional information, call (310) 781-7150 or visit the website at http://www.hermosabch.org/index.aspx?page=21&recordid=3830.
The Ken Miller Recreation Center is located at 3341 Torrance Boulevard, Torrance, CA 90503.