September 10, 2016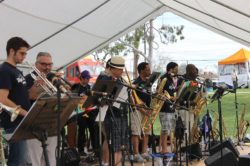 The City of Torrance invites the community to a FREE Outdoor Concert featuring Mystic Wave on Saturday, September 10 from 3 to 5 p.m. in Columbia Park.
Attendees should bring blankets, chairs, food and friends and come out and enjoy a free summer concert.
Mystic Wave is comprised of 17 musicians with a repertoire that is a combination of jazz, Latin and old school soul favorites.
They have played at the City's annual Cherry Blossom Festival the past few years and have become a festival favorite.
The members of Mystic Wave are affiliated with the local chapter of SGI-International, the international Buddhist organization for peace.
This concert of Mystic Wave is a program of the City of Torrance. For additional information please call the Cultural Services Division, Community Services Department at (310) 618-2376.
Columbia Park is located at 4045 190th Street in Torrance.