February 10 – April 16, 2017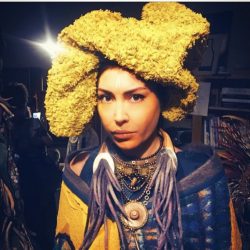 The Palos Verdes Art Center presents the Opening Reception: Wearable Expressions 7th International Juried Exhibition on Friday, February 10 from 6 to 9 p.m.
Palos Verdes Art Center's exhibition of wearable art returns with innovative works in fiber, jewelry and accessories by artists from around the globe chosen by an international jury. Artists participating in this year's exhibition are from Asia, Europe, Australia and both North and South America.
Featuring wearable art in all media, Wearable Expressions promotes the adornment of the body seen through the aesthetic lens of fine art. Wearable Expressions is established to promote the sharing of new visions and the exploration of innovative techniques and materials in art to wear.
You don't want to miss the unveiling of this amazing exhibition of wearable art!
For additional information, visit the website at http://www.wearableexpressions.com/.
The Palos Verdes Art Center is located at 5504 West Crestridge Road, Rancho Palos Verdes, CA 90275.