November 27, 2016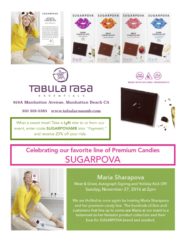 Maria Sharapova will host a Meet & Greet/ Autograph Signing on Sunday, November 27 from 2 to 4 p.m. at Tabula Rasa Essentials Gift Shop in Manhattan Beach.
Entrepreneur and international tennis sensation Maria Sharapova, will be kicking off this year's holiday shopping season as she supports one of her favorite hometown retailers, Tabula Rasa Essentials, with a celebration of her premium candy collection, Sugarpova, for fans and holiday shoppers.
In addition to the Sugarpova premium gummy line, Maria will be highlighting the latest product in the Sugarpova assortment – Sugarpova Premium Chocolates. The decadent collection is comprised of 100g chocolate bars in Dark, Milk, Dark with Toasted Coconut and Milk with Strawberry. The unique product is Non-GMO, Certified Kosher, Halal and made with natural ingredients.
About Sugarpova
Sugarpova continues to have double-digit growth year after year since its launch. Currently, the brand has retail penetration in 22 countries all over the world and is sold in a variety of retail partners and online. The founder and international tennis sensation is Maria Sharapova, whose sweet tooth and love for little indulgences, motivated her to create a candy company specializing in gummies and sweets of quality craftsmanship.
For additional information, visit the website at http://www.sugarpova.com
Tabula Rasa Essentials is located at 919 Manhattan Avenue Suite A, Manhattan Beach, CA 90266.