April 16, 2019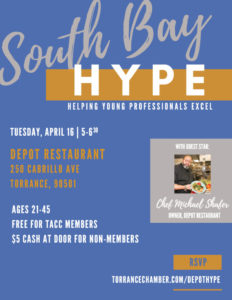 The Torrance Chamber of Commerce presents the monthly South Bay HYPE Mixer on Tuesday, April 16 from 5 to 6:30 p.m. at The Depot.
HYPE is all about Helping Young Professionals Excel! The Guest Speaker this month is Chef Michael Shafer, Owner of The Depot, community organizer/sponsor and uber-volunteer…. this is the guy that makes things happen!
Bring plenty of business cards, bring a friend, bring a smile!
Admission is FREE for TACC Members (with business card) and $5 for guests. Ages 21 to 45 welcome.
For additional information and ticket purchase, visit the website at https://www.torrancechamber.com/event/depothype/.
The Depot is located at 250 Cabrillo Avenue, Torrance, CA 90501.