September 17, 2016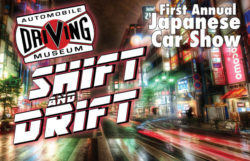 The Automobile Driving Museum presents its' first annual Japanese Car Show SHIFT & DRIFT on Saturday, September 17 from 10 a.m. to 2 p.m.
A primarily American museum, the Automobile Driving Museum celebrates all automotive genres and are very excited to announce this inaugural Japanese car show.
Shift & Drift will feature the famous yellow Nissan 240z originally owned by Mr.K (Yutaka Katayama – former President of the Nissan Automotive Corporation U.S.A.).
Mr. K is regarded by Datsun/Nissan Z Car enthusiasts as the father of the Z-Car, as well as the Datsun 510. Mr. K's secretary and son, Kenny Ueda, will appear with the car.
Celebrity Judges include:
•John Morton –legendary auto racing driver for 48 years and winner of the 1971 Datsun Race car Driver of the year.
•Jonathan Ortiz – Representative of Datsun Parts and Needs
•Steve Siler – Renowned International Auto Journalist
•Bryan Thompson – Transit designer who served for nearly a decade designing high profile vehicles and concepts at Nissan's design studio in southern CA and Japan.
•Chris Hoffman – Original Fanboy and automotive writer
•Mike Parente – Noted collector and experienced show judge
The Automobile Driving Museum looks forward to more than 100 nostalgic and newer Japanese cars for an amazing event for all car enthusiasts.
For additional information, visit the website at http://www.automobiledrivingmuseum.org/.
The Automobile Driving Museum is located at 610 Lairport Street, El Segundo, CA 90245.