Every Tuesday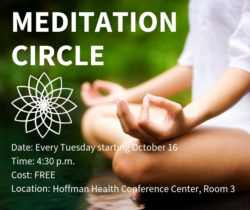 Torrance Memorial's HealthLinks offers an opportunity to enhance meditation skills through a free, drop-in Meditation Circle for community members every Tuesday from 4:30 to 5:30 p.m. in Room 3 of the Hoffman Health Conference Center
Benefits of regular meditation include: quieting the mind, developing inner peace, adding balance to life, relaxation for health and well-being, and shared energy.
Some meditation experience is desired. If you do not have experience, call HealthLinks for details on "The Taste of Meditation" class. Drop-ins are welcome any time during the hour.
For additional information, visit the website at http://TorranceMemorial.org/SupportGroups or call 310-517-4711.
The Hoffman Health Conference Center is located at 3315 Medical Center Drive, Torrance CA 90505.