April 1 – 30, 2019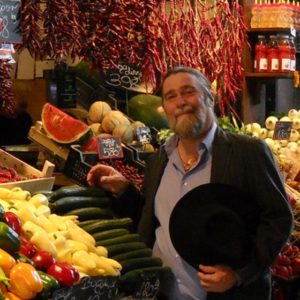 The El Segundo Museum of Art offers a variety of activities all year round.
For additional information, visit the website at https://esmoa.org.
El Segundo Museum of Art is located at 208 Main Street, El Segundo CA, 90245.
Check out what's happening in April….
Seven Gifts From Southern California Kitchens to the World with Richard Foss
Thursday, April 4, 6 to 7:30 p.m.
Each wave of immigrants to Los Angeles brought their own tastes in food, and both home and commercial cooks recreated traditional items using local ingredients. Learn how seven food items were developed in Southern California that included culinary elements from Europe, Central America and Asia with food writer and culinary historian Richard Foss. RSVP strongly encouraged. Admission id FREE. For additional information and ticket purchase, visit the Eventbrite page at https://www.eventbrite.com/e/seven-gifts-from-southern-california-kitchens-to-the-world-tickets-58462581154?aff=ebdssbdestsearch.
Foodtopia – Wundertuete: A Food-inspired Workshop Series for Young Creatives
Friday, April 5, 3:30 to 5 p.m.
Let's have fun at FOODTOPIA! Attendees will play, sketch, design, build, tinker and tune-up their own inventions using recycled materials. Workshops begin with sketching exercises before exploring different art challenges inspired by EAT. For participants 10 and up. Join us on select Fridays; no RSVP required. Materials provided by ESMoA. Admission is FREE.
CREATE: A Felt Banquet
Saturday, April 6, 1 to 4 p.m.
In this all-ages workshop, use simple no-sew techniques and felt to create a banquet everyone can enjoy! All skill levels are welcome. Admission is FREE.
Not That Serious: Drawing for Fun
Saturday, April 13, 11 a.m. to 12:30 p.m.
In this drawing workshop, the aim is to loosen up and draw for the fun of it. Attendees will play group drawing games, do guided exercises, and free draw in the gallery space with guest facilitator Kiley Wolff. No experience needed with drawing or having fun; all skill levels welcome. Bring friends or come alone! Admission is FREE.
Touch Tour – A Multi-sensory Tour for the Visually Impaired
Saturday, April 27, 1 to 2 p.m. and 3 to 4 p.m.
This specially designed gallery tour aims for a multi-sensory experience for blind or visually impaired guests to engage with artworks in EAT in an immersive and accessible way. Tours will include verbal descriptions of selected artworks and touch objects. RSVP to rsvp@artlab21.org. Admission is FREE.
JUST DRAW – ESMoA Adult Drawing Club
Every Friday 10 to 11 a.m.
Come and draw! In this informal club, attendees will start with warm-up drawing exercises and then just draw, taking inspiration from the featured artworks. There are also unexpected design challenges. Come every Friday or just drop-in, all drawing materials are provided. Adults only. All skill levels welcome. Admission is FREE.