May 1 – 31, 2019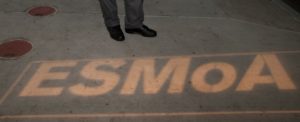 The El Segundo Museum of Art offers the community a variety of activities every month….. and most of it is FREE!
For additional information, visit the website at https://esmoa.org.
ESMoA is located at 208 Main Street, El Segundo, CA 90245.
Check out what's happening in May….
Let's Talk About Food – Sat. May 4, 1pm to 3pm
Discover how food histories are shaping food justice initiatives in Los Angeles today and for the long term with Ron Finley, The Gangsta Gardener; Karla T. Vasquez, Founder of SalviSoul, and Rebecca Amis, Founder of MUSE School CA. The conversation will be moderated by Alba Velasquez, Healthy Neighborhood Market Network Program Director from Los Angeles Food Policy Council. RSVP at https://www.eventbrite.com/e/lets-talk-about-food-tickets-60230185105. Admission: FREE
Sari Sari Store at the El Segundo Farmers Market – Thur. May 9, 4pm to 7pm
Visit the Sari Sari Store at the El Segundo Farmers Market and pick up a special treat! Artist Sara Chao will be managing the store and available to answer questions about her work and practice in Los Angeles. Admission: FREE
A2A: A Conversation with Joan Takayama-Ogawa and Marc Trujillo – Sat. May 11, 1pm to 3pm
Join featured EAT artists Joan Takayama-Ogawa and Marc Trujillo for a discussion about their individual works in EAT, their inspirations, and finding new ideas in food. Admission: FREE
ESMoA Book Club: "Why You Eat What you Eat" by Rachel Herz – Thur. May 16, 6:30pm to 8pm
Join us on Thursday, May 16 from 6:30pm to 8pm for ESMoA Book Club! Read and discuss "Why You Eat What You Eat: The Science Behind Our Relationship with Food" by Rachel Herz. he discussion will be co-facilitated by Eugenia Torre, Information & Media Manager and Holly M. Crawford, Manager of Education. Light refreshments will be served. Admission: FREE
Balikbayan Box: A Care Package Workshop with Sara Chao – Sat. May 18, 1pm to 4pm
Learn more about the significance of a Balikbayan box and make your own filled with unique gifts for a family member or friend with artist Sara Chao. Admission: FREE
JUST DRAW – ESMoA Adult Drawing Club – Every Friday, 10am to 11am
Come and draw with us! In this informal club, we'll start with warm-up drawing exercises and then just draw, taking inspiration from the featured artworks. We also work with unexpected design challenges. Come every Friday or just drop-in, we provide drawing materials. Adults only. All skill levels welcome. Admission: FREE
Last weeks of Experience 39: EAT
Experience 39: EAT is closing on May 18 2019. Don't miss the opportunity to experience EAT while it lasts!