June 12, 2018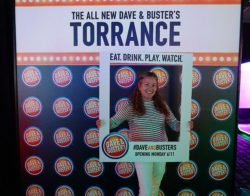 Last week I attended a media preview at the new Dave & Buster's in Del Amo Fashion Center.
Full disclosure: I've never been to a Dave & Buster's and was startled by the raucous reception we received upon entering. A dozen delighted employees greeted us with cheers, horns, and smiling faces.
As we were checking in, a member of the marketing team offered to take us on a tour of the 35,000 square foot facility – you read that right – 35, 000 square feet of wall to wall fun. We were given a couple of drink coupons and a card loaded with $20 for game play.
Dave & Buster's offers New American food, an array of fun, innovative beverages, and the biggest and best arcade games, including several proprietary games, under one roof…. one HUGE roof.
We made our way to the restaurant and since it was a special event, a GIANT buffet had been set up with a variety of menu items: sliders, salads, satay skewers, etc. and an endless assortment of desserts. We filled a couple of plates, grabbed a booth and the staff could not have been friendlier or more attentive, taking our drink orders as soon as we were seated.
Once we had our fill, our tour guide brought us to the D&B on-site store where you can buy merchandise with accumulated game credits. There was a large selection of stuffed animals, toys, tee shirts, video games, etc., in addition to bigger ticket items such as headsets and Play Stations.
Dave & Buster's also has two function rooms which can be reserved for large groups and special events.
The bar is ENORMOUS with multiple screens in a variety of sizes.
There were dessert and beverage stations sprinkled throughout the massive space and we couldn't help but notice the glowing, neon drinks. I had to try one, of course.
Dave & Buster's offers every game imaginable – from the traditional arcade game of skeeball to virtual and augmented reality games. We played a few favorites and tested our skills on some new ones. The place was packed and everyone, everyone, was having a great time. Time to let the pictures tell the story….
Everything about Dave & Buster's is super-sized and super fun and there's certainly something for everyone!
For additional information, visit the website at http://www.simon.com/mall/del-amo-fashion-center/stores/dave-busters.
Dave & Buster's is located at 21880 Hawthorne Boulevard, Torrance, CA 90503.
Fabulous photography courtesy of Gloria Plascencia.
HOURS:
Monday to Wednesday 11AM–12AM
Thursday 11AM–12PM
Friday to Sunday 11AM–1AM
BEST ENTRANCE: Entrance 17
LOCATION IN MALL: Between Sears and JCPenney