July 5 – August 9, 2017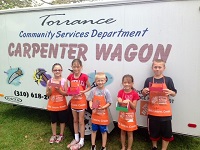 The City of Torrance Community Services Department in partnership with The Home Depot will be hosting the Carpenter Wagon again on select Wednesdays this summer.
Staff will help children ages 6 to 14 create a variety of wood craft projects. They can make mailboxes, toolboxes, birdhouses and more! Parents/guardians must be present in order for their child to participate.
Workshops are offered in 50-minute sessions at noon, 1:00 and 2:00 p.m. Sessions are limited to 20 participants and are offered on a first come, first serve basis. Registration will be taken 10 minutes prior to the start of each session. Participation is limited to one session per child per day.
This program is FREE and will be offered on Wednesdays at noon, 1 p.m. and 2 p.m. at the following parks:
July 5 – Torrance Park, 2001 Santa Fe Ave.
July 12 – Columbia Park, 4045 190th St.
July 19 – Paradise Park, 5006 Lee St.
July 26 – La Romeria Park, 19501 Inglewood Ave.
Aug 2 – Victor Park, 4727 Emerald St.
Aug 9 – Walteria Park, 3855 242nd St.
For additional information, visit the website at http://www.TorranceCA.Gov/Parks or call (310) 618-2930.