September 14, 2016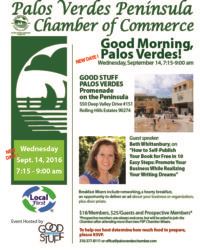 The Palos Verdes Peninsula Chamber of Commerce invites the public to their monthly "Good Morning, Palos Verdes!" Breakfast Networking Mixer on Wednesday, September 14 from 7:15 to 9 a.m. at Good Stuff Palos Verdes.
The guest speaker will be Beth Whittenbury on the topic "How to Self-Publish Your Book for Free in 10 Easy Steps: Promote Your Business While Realizing Your Writing Dreams." When you market yourself, you can literally say, "I wrote the book on it!"
Admission to the Mixer is $18 for PVP Chamber members, $25 for prospective members and guests, and includes networking, a hearty breakfast, an opportunity to deliver an ad about your business or organization and door prizes.
For additional information and registration, visit the website at http://www.palosverdeschamber.com, call 310-377-8111 or via email at [email protected]
Good Stuff Palos Verdes is located at Promenade on the Peninsula, 550 Deep Valley Drive #151 in Rolling Hills Estates.