South Bay By Jackie is your source for the latest Lawndale events.

August 26, 2017
We Rock the Spectrum Kid's Gym will celebrate the Grand Opening on Saturday, August 26 from 10 a.m. to 5 p.m.
The community is invited to join in a day of fun at the new facility and meet the owners. The event features face painting, music, raffles and treats from neighborhood businesses.
The unique sensory equipment found at We Rock the Spectrum includes ten pieces of specialized equipment specifically designed for children with sensory processing disorders. Check out the trampoline, zip line, swings and more!
For additional information and to RSVP, visit the Facebook event page at https://www.facebook.com/events/798659286961674/
We Rock the Spectrum is located at 4451 Redondo Beach Blvd, Unit B, 2nd Floor, Lawndale, CA 90260.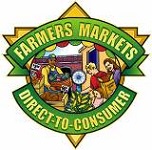 The South Bay has several terrific Farmers' Markets throughout the week.
These are great community amenities that provide an opportunity to shop locally for the freshest, seasonal produce available.
Here's a schedule by day of the week: